Tried It, Loved It: August and September Edition
I have had to combine my favorite recipes into two months again. I haven't been recipe experimenting quite as often, even though I'm out of my first trimester. But I have definitely found a few keepers these past 2 months! All of the recipes below are from my Pinterest boards in case you want to keep up with any in the future. I usually comment on my pins after I make them to keep up with the changes I made to the recipes.
This is also how I meal plan, similar to Emily at Jones Design Company, except I only plan a week in advance because things change so often. I explain how I meal plan a little more in depth in this post. It has pretty much worked for us for at least a year.
Not all of these recipes are super healthy, but they are all super tasty!!! If you want some more recipe ideas that I have tried and loved, check out April, May, and the June & July editions.
Breakfast
Success! Except for the part where I baked them in paper liners and the egg cups stuck to them. Will grease the pan and bake straight from the pan next time like the recipe told me. I spent a good amount of time peeling the paper off, but everyone at the wedding shower loved them!
Basically I had buttermilk and a zucchini that were both going bad. This was a perfect solution. Used less salt, and didn't need to fill the pan with oil. Just sprayed it with canola oil and that did the trick!
I made this with Honey Crisp apples that we picked ourselves in Washington! I only used about 3/4 C brown sugar because that is all I had but it still tasted good. Kind of a mix between apple sauce and apple butter, as in the texture wasn't as thick as I thought it would be. But it has been great to spread on toast and into oatmeal. I also didn't have canning jars, so I gave away 3 mason jars of it to friends to eat!
Sides
Used less cheese and milk, added spinach in the first step. The best part? No pans to clean! Perfect for homemade pretzels.
I made a version of spoon bread with a can of creamed corn a few years ago and remember loving it, so I thought I would try and make the "healthier" version of spoon bread. This version, although really good, took WAY too long and I was late for work trying to make it before I left for the day. I also added 1/4 cup of jalapenos for an extra kick, which made it a great snack for later too.
These were amazing! I usually try and oven bake my veggie chips or fries, but I wanted some that were actually really crispy this time. And plus, I could use the extra calories now. I used about a 1/2 inch of canola oil instead of 4 inches, and they worked great! My thermometer wasn't really working, so I burned a few chips because the temperature was too high. And canola oil is good because it can withstand high heat well without splattering, and it is a good source of Omega 3s which is good for me and growing baby.
I have used this seasoning for popcorn, Greek yogurt, potato soup, etc. I just love that ranch taste!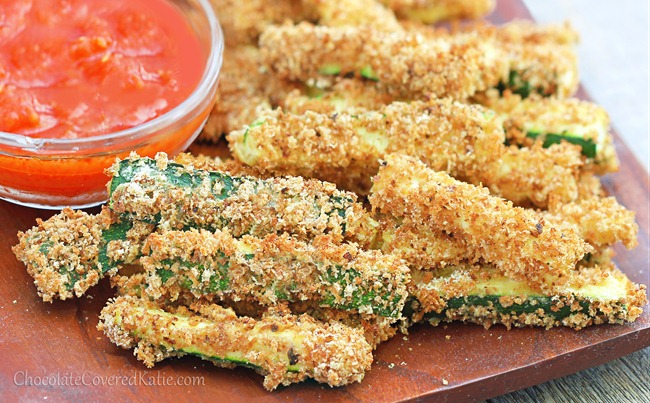 Delicious! I had some zucchini that were going bad, so I made these fries. I only had two zucchini, but I started to run out of flour towards the end so I would use a bit more next time. I used gluten-free all-purpose flour with leftover BBQ seasoning from the above chips recipe, and they turned out great. The fries were perfectly crispy, and I dipped them in a bit of ranch (surprise, surprise)!
So easy with my new mandolin. I mixed sweet potatoes and russet potatoes because I didn't have enough of both. It was a pretty tasty mix! I brought this dish to a BBQ and it was very well received. Who doesn't love potatoes and cheese?
Lunch/Dinner
I like to spend time making delicious dinners and then have leftovers for lunch. Makes packing lunches a whole lot easier!
I have made this before, and it's a favorite. I don't add all of the ingredients, but the basic recipe for the stuffed peppers with the apple chicken sausage is a great combination.
One of my coworkers gave me a mandolin that she wasn't using, and it was pretty much essential for this recipe. I would have sliced off a few fingers attempting this with a knife. A lot of the reviewers said theirs came out with a bunch of liquid, but I made sure to salt and grill mine beforehand and I thought it came out great. Mattox asked for about 3 servings of it! We only had leftovers for 1.5 days of lunch, which is saying something for a recipe designed for 9 and eaten by 2.
Dessert
These really worked! But I used an ice cream scooper, pressed them in, and it only made 8 and not 14. I also drizzled them with melted chocolate after they baked. Even better.
Easy as it sounds. A box of brownies, a can of pumpkin. Makes it pretty fudgy, which was totally okay with the ladies who consumed it. I didn't have any to bring back to Mattox.
What have been your favorite recipes? Would you like to share the links below?!
How do you keep track of your favorites?