Tried It, Loved It: January 2014 Edition
Here are all my successful Pinterest recipes from January! I am really glad I started doing this, because last week I had a bad case of "meal-planning block" (like writer's block!) and could not decide on what to make. So I went back through my previous months of successful recipes (listed below) and picked out a few casseroles to make. I also saved half of the casserole and stowed it in the freezer for those times when I'm busy breastfeeding and don't feel like making food for us. It's like I'm taking on another job as a chef, making food and serving it every 3 hours for one little person in addition to cooking and feeding myself and Mattox!
So basically, meal planning and recording successful recipes are a really helpful way to stay on top of eating healthy throughout the week. A little work now goes a long way later!
All of the recipes below are from my Pinterest boards in case you want to keep up with any in the future. I usually comment on my pins after I make them to keep up with the changes I made to the recipes. I make most of my recipes from other blogs and websites, so Pinterest not only lets me keep an organized online catalog of them, but enables me to share them with you!
Not all of these recipes are super healthy, but they are all super tasty!!! If you want some more recipe ideas that I have tried and loved, check out these previous 2013 editions:
Savory
So good! All of the yolks broke in the process except one, but we ate them nonetheless. They were very filling and pretty easy to make (with the help of a Kitchenaid to whip the whites). I also used 4 slices of deli turkey instead of bacon, and drizzled the tops with hot sauce. They make you feel like you are eating a lot of food because the whites puff up so much.
I had a bunch of leftover kale, and since Mattox hates kale, I decided to make these for dinner for myself one night. I ate three and was stuffed, and then we had a ton of leftovers that I used as dinner sides and snacks for the week! I also made a quick little sauce to dip them in by mixing a few tablespoons of Greek yogurt with juice from half a lemon and some pepper.
I went ahead and made a whole batch of these by mixing 2.5 cups oat flour with 1.5 cups water and 10 egg whites (1 small container). I used 1/2 cup of batter to make 12 crepe-like tortillas. The oats sink to the bottom, so if you make a big batch make sure to get oats and liquid in each 1/2 cup. These are great for any tortilla-type use, but be careful because they are much more gentle than store-bought ones, but also much less expensive, and you can customize the flavor to your liking!
So I didn't use the cream cheese or bake the cheddar cheese on top at the end, but I loved the flavor of these! I made the potatoes with the creamy spinach chicken below, so I felt like using all the cheese with the creamy chicken would have been a little overkill. Mattox didn't believe me when I told him there was no cheese in the potatoes, because the paprika gave it a nice rich yellow tone, which kind of fools your brain into thinking it has more fat and flavor. We had a lot of leftovers, so I froze at least half of them, hoping they will freeze well!
Okay well I didn't exactly make the carne asada myself, mostly because Trader Joe's already has an amazing pre-packaged version I can just stick on the grill pan. But I did use a new method of cooking nachos: single layer of chips, cheese, meat + toppings, cheese, broil. Before I just piled some chips onto a pan, put on the cheese and then the toppings and called it good, but they usually came out a little soggy and you had those sad chips left without any toppings at all. This time I made sure to rinse and drain the beans and corn really well. I added some jalapenos, black beans, and lime zest for an extra kick of flavor for the toppings. This is probably one of Mattox's top 10 favorite meals.
I don't always love baked chicken, but this was an amazing chicken recipe. I used chicken tenders instead of breasts, collard greens instead of spinach, half the mayo, and sadly, I forgot the artichokes at the store so I didn't use those. I also forgot shallots and am intolerant to garlic so I didn't use those either. I cooked the chicken for 15 minutes the first time, 20 minutes with the toppings, and it turned out perfect!
Trader Joe's was out of tilapia, so I got some white fish called Denver Sole. Not sure if the tilapia would have made much of a difference since this fish was also white and non-fishy tasting, but I thought it was pretty good. The Denver Sole had like 6 frozen filets in it while the recipe only called for 4 rolls, but I stretched the filling a bit and used all 6. Also, I substituted crushed Blue Diamond Nut Thins for the bread crumbs for a gluten-free alternative. Mattox doesn't always love fish, but we loved these!
I had some red potatoes that I was just going to roast in the oven, but then saw these "smashed" potatoes and thought they looked divine! The recipe doesn't say how long you need to boil the potatoes, but mine took about 20 minutes to be soft enough to smash, so make sure you factor that in that time. And mine didn't smash as well as the recipe pictures, but they tasted ah-mazing. I probably had 3 servings of them. There's not many things better than hot, oiled, crispy potatoes!
Sweet
My plan was to make a carrot apple bisque, until I realized I needed a juicer for the recipe. So I made these carrot cake pancakes instead! You can't go wrong with a Smitten Kitchen recipe. It was dinner so I needed to use up and incorporate some of the carrots I had, plus I accidentally bought buttermilk instead of skim milk for Mattox (whoops!) so I had to use that too. I lightened up the cream cheese frosting by using laughing cow wedges and just a tablespoon of powdered sugar with some unsweetened almond milk, and we really enjoyed them. Great brinner (breakfast for dinner) indeed.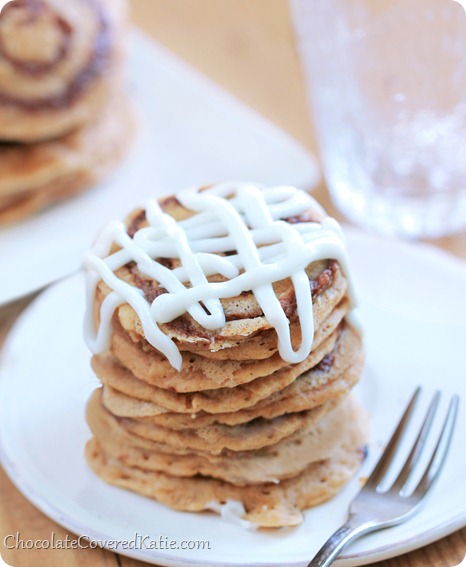 These were really good, and I think worth the time. They didn't take super long, but there is that extra step of blending the cinnamon swirl and the cream cheese frosting. Apparently my blender didn't work super well because the dates didn't blend up into a smooth batter and so the swirl wasn't so pretty. It was mostly like dropped chunks of cinnamony-date mixture. But that didn't affect the taste. They were amazing! And would totally recommend using a cream-cheese like frosting (see above pancake recipe) if possible to give it the full cinnamon roll effect.
I used two eggs instead of 4 egg whites, and cooked it in the microwave for 1 minute because I was too impatient. I also added a few chocolate chips into the batter. The cake part turned out cakey, and the middle was slightly under-baked, which I like. I topped it with a little bit of almond butter and a few more chocolate chips, which helps offset a tiny bit of cakey dryness. YUM!
I had some sweet potatoes AND bananas that needed to be eaten, thus this recipe was perfect. I didn't have any walnuts so didn't add those in, but I thought they were really moist and had great flavor. I wasn't sure if I was supposed to cook the sweet potato before adding it into the muffin mix, so I didn't and they turned out fine! Kind of like putting grated carrots into a batter. I also didn't bother peeling the sweet potato and grated it, skin and all. One cup of grated sweet potato was about 1/2 of a large potato. I ended up sticking the other half of the potato into the oven to bake with the muffins to use for later consumption.
 Well these cookies are gluten and grain-free, but remember, that definitely does not make them healthier! You are basically replacing the flour with powdered sugar. You really can't mess up the flavor of these cookies. Decadent, gooey, chocolatey goodness.
Have you had any successful recipes this month?
How do you keep track of your favorite recipes?